I can't believe its only a week till my 19th birthday . Just. A. Week. And I am sooooo not prepared to turn 19!!!!! I mean seriously , didn't I just turn 18? Huh?
Okay, so I am not really panicking like the above example. But, I guess the thing that's worrying me is that 19 is just a step from the big Two-oh and that's kinda scary when you think about it. Isn't it? But, at the same time it also very exciting. :] Another thing about turning 19 I have no heroine for the year. Yeah each year since I was 16 I have had a heroine of the same age to look up to and feel a kind of kinship with..
This years being 18 and all it was Rapunzel.
17 was Nancy Drew.
16 Lizel von Trapp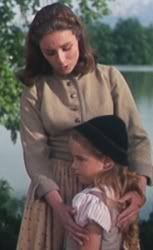 And now I am stuck!!!! I have no book/ movie girl character who is 19!!!!!
Anyhooo, this week I will spend pondering this past year which has been huge and being thankful for it all the good and the bad because in every situation I learn something and I grow. In mind, body and spirit . And each day I know I am treading my very own path God has made for me and becoming the woman he want sme to be.
Ta Ta Darlings!!!